Positive thinking for positive outcomes
September 4, 2011 under: Daily 235 words
August was a horrible month for me. Work started to slow down (as in working 40 hours total in a month) and as a result, I wasn't able to keep up on my bills. Just as I was thinking that was the worst of my problems, both the family cat and my cat went missing within a week of each other.
Anyone that knows me, knows that my cat is like my child. I never plan on having kids, only fur babies (aka dogs and cats). He means everything to me, so when I heard the news, I was absolutely crushed. I couldn't eat for days. I broke down crying at the most random times. I still do. However, I'm trying to stay positive. We don't know what happened for sure, but I'm praying they both come home. Even though everyone else thinks they're gone for good, I will still think positive thoughts in hopes they return… If not for that, then for my own sanity because I can't picture a life without them.
About two weeks ago I got another kitten. I named him Buster. I had thought about getting one even when Porky (my cat) was around so that when he was at my apartment, he'd have a buddy to keep him entertained as Porky was not made for apartment life.
I really hope he comes home so he can meet his new buddy…
It's the small things
August 16, 2011 under: Daily, Fitness 292 words
Since Grade 12 I've been on one crazy weightloss journey. From 2004-2008 I managed to gain 82lbs. Horrible, right? I've tried just about every diet out there, even the super unhealthy ones. It wasn't until I decided that I was done dieting and began making a lifestyle.
I started with the little things. No pop/soda (although I stopped drinking it in 2006), no sweeteners, drink more water, cut back on portion sizes, and workout whenever possible (even if it meant doing a few situps in the lobby at work). Slowly but surely, I started to notice a difference. In 2009, I managed to lose 43lbs in 8 months. Not bad! I was almost in the single digits when it came to pant sizes. It felt amazing!
After my trip, however, I slowly started gaining it back. I started to go back to my old habits and after I got laid off, I sat around doing nothing. I ended up gaining back 23lbs. Since I had bought an entirely new wardrobe, nothing fit me anymore. It was awful.
So here I am again, back on the journey. I've since lost about 12lbs, and working towards being in the same place I was 2 years ago, but it's quite the struggle. I've cut back even more (ie: no cream in coffee, only milk; drinking only skim milk; rarely eating out), and I've been able to maintain this weight, but losing it is a little more difficult this time around. I was on the right track for awhile there, until I received some bad news and I've been a little depressed since, but I've got to jump back on the wagon.
So… who's with me?!
Worst Blogger Of The Year
Seriously, there should be an award for that. Because I'd win, and I never win anything.
I can't believe summer is coming to an end. It feels like it only just started… and it kind of did. It wasn't until July that it actually started to feel like summer. May and June were so cold, windy and rainy here. It was brutal. But that quickly changed into nothing but sun… and sunburns.
It's been a pretty tame summer this year. I'm still into my first year of living on my own so it limits the cashflow I normally have in the summer, which means a lot of weekends spent at home not doing anything. The past few weekends have been pretty decent, though!
Last month I went to a baseball game with my bff in Toronto. We went to see the Blue Jays and Yankees. I've never been to one and it has been on my bucket list for years now, so I picked up some nosebleed tickets and off we went!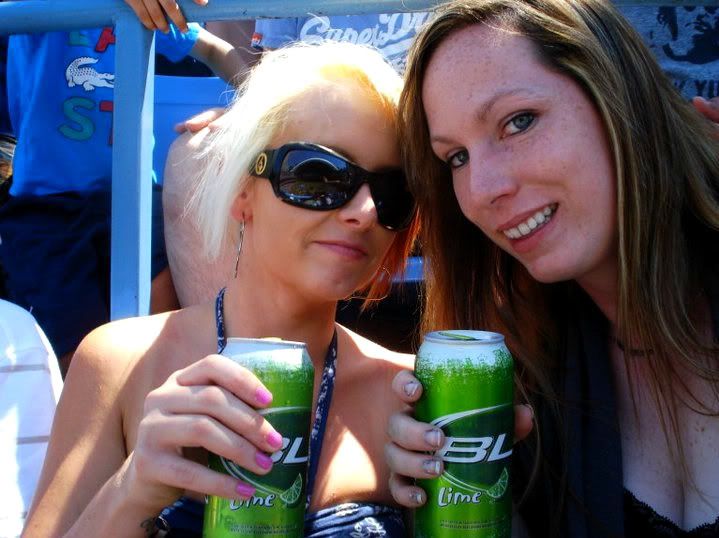 After the game we went to the CN Tower, which I had never done either (another thing to cross off the bucket list!). It was neat, but the lines were ridiculous! Not worth the wait, in my opinion. The glass floor was not as scary as I thought it would be – in fact, I wasn't scared at all. My friend, however, had a hard time getting on it… and I don't think it helped that I started jumping on it right in front of her. LoL.
The following weekend I went to RibFest with my sister and her boyfriend. Another thing I've never done but wanted to check out. I don't eat ribs, so I went for the funnel cake and deep fried mars bar. I even tried the blooming onion and loved it… and I hate onions! We didn't stay too long because, really, how long can you sit, eat and drink for? I definitely want to go back next year, but maybe to the one in Barrie.
And finally, this past weekend was our annual August Long Weekend Party at my parent's place. Every year one of my friends from college comes up for the weekend, but unfortunately she wasn't able to make it this year so I was actually kind of bored. It was also a small turn-out this year; approximately 30-40 people. One year we had close to 200-250 people! Although the large parties are fun, I think I enjoy the smaller ones better. It's more intimate and you get a chance to talk to everyone.
Those are basically the highlights of my summer. How has everyone else's been so far?
Why I Love My Job
May 22, 2011 under: Work 543 words
In 2007 I graduated college and received my diploma as a Web Developer. I was offered a contract job for a company an hour away from where I live, but was able to work from home. I absolutely loved it there, but they couldn't afford to keep me on full time as it was just a small company. Unfortunately, after handing out many resumes and going to several interviews, I was unable to get a full time job as a web developer.
I had many different jobs from the time I graduated until the job I am currently working as, which is a painter. A friend got me the job in 2008, as she saw I was struggling at my minimum wage job trying to make ends meet. Being a painter was not what I had in mind for a career. It was the opposite of who I was. I'm a girly-girl, through and through, so being covered in dust and paint, wearing sweats and having my hair up all the time and dealing with spiders on a daily basis (ew!) was not me. But, it was $3 more an hour than what I was currently making, so I took the job… and guess what – I LOVED IT!
I'm now making more money than I would be as a web developer, I never have to take my work home with me and if I want extra money, I can work longer days. The summer is just amazing because I'm not cooped up in a stifling office. I get to enjoy the nice weather outside and work on my tan – although I still have to endure the spiders (seriously… I'm terrified of them). Since we usually work on rich people's cottages, the views we get to see on a daily basis are spectacular.
There are downsides to it, of course. I go home covered in dust and paint, and a lot of hours are put in in a day. There's a lot of heavy lifting, but at least I can say I've never been stronger! Who needs the gym!
I really do love my job. I'm not sure if I will do this for the rest of my life, but at least right now I'm doing something I really enjoy. It's a great feeling waking up in the morning and not dreading going to work; to know that you will leave at the end of the day satisfied.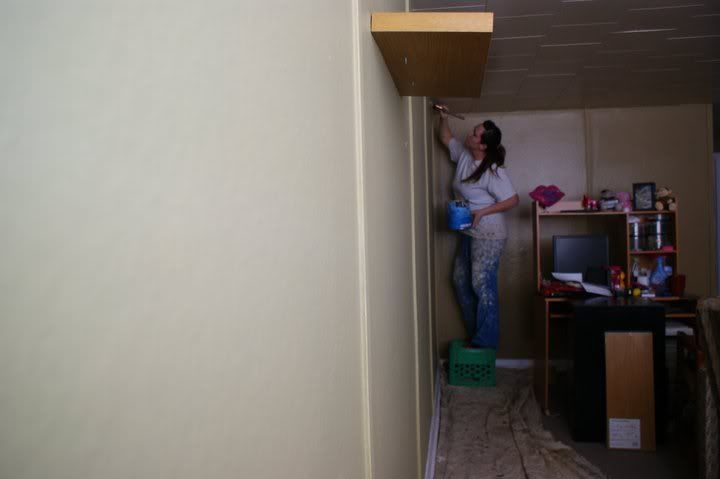 My Story
May 7, 2011 under: Daily 460 words
I was once asked by a therapist two years ago if I ever had a traumatic experience as a child. I automatically responded "No" since I had a pretty good childhood. My parents never abused me, there was no messy divorce, no violence (other than the fights my sister and I got into), nothing along those lines. I had it pretty good. However, once I started thinking harder about it, I told her that I was bullied in Junior Kindergarten right until I graduated High School. She was shocked that it went on for that long, and that it was, indeed, something traumatic.
It was such a big part of my life growing up that I never looked at it as anything traumatic. It was an everyday occurrence for me, especially by one boy in particular. Growing up in such a small town, you attend school with the same people throughout you're entire elementary career. So my bully was there, growing up with me, ready to bring me down every chance he got.
Although I'm out of high school now and have since attended college and am now working full time, the fear is still there. Whenever I hear laughter or whispering around me, my first thought is they're laughing about me; they're talking about me. I grew up hating myself. Every time I looked in the mirror, I told myself how ugly I am, how useless I am, how worthless I am. Why did I do this? Because this is what my bully(s) told me I was. This is how they made me feel. But who were they to say how awful of a person I was? They didn't even know me! Day after day this went on, for 14 years. Needless to say, I had terrible self-esteem.
When I was in grade 6, I remember bullying one kid in my class. He was new, strange, and no one liked him. Instead of being a leader and leaving this kid alone, I followed along with my friends and teased him. Years later, I still feel terrible. I was now just as bad as those kids teasing me. I immediately felt awful after I realized that what I was doing to him, was being done to me, so he was the last kid I ever made fun of.
Seeing these anti-bullying ads and schools doing programs to eliminate bullying makes me so happy. I know it can't be fixed entirely, but I hope kids don't have to go through the same thing I did. It's a terrible experience, and I'm still working on getting over my self-esteem issues.
What was your experience growing up? Were you bullied? The bully? Or were you able to avoid it altogether?
« Previous entries
Next Page »
Next Page »